What if I stand up saying that Artificial Intelligence would be more prioritized than humans? Well, I sense this to come true in approaching decades. And this makes me raise the question that is Artificial Intelligence a want or a need, a choice or a priority? We used to own them but now they own us. It amazes me to see human species so timid, so spellbound in this digital age so closed and private just like their smartphones so encrypted. Where were your secrets when there was no digital greatness or should I say (weakness)? We're working and living totally under them; from going to the bed till waking up early morning we all are surrounded by all electrical stuffs filled with nucleotides. I of course don't mean to not use them but I do mean are we overusing it? Everything has something good cause but on the flip side a bad cause too.

I see the advances happening in technology and it's becoming evident that computers, machines, robots, and algorithms are going to be able to do most of the routine, repetitive types of jobs. Nonetheless the one who have built it is human itself yet will the robots fit in our shoes? They're able to do all the stuffs more than we could think of, but Artificial Intelligence as technology isn't morally good or bad – it just is. It's useful to think of Artificial Intelligence as being like a toddler. It can learn, develop and improve its capabilities over time, but it isn't smart enough and doesn't have the emotional reconnaissance to know the context and impact of its decisions.

Will robots change our lives in the future? It's a comical question to ask when they're already doing it now in so many ways and they have been for years. From the first time you saw a toaster pop up by itself, we've casually accepted that machines can be trusted to do things for us. They record our shows, cook our food, play our music, and even run our cars. We just don't see it because these "robots" don't have a face we can talk to or a back we can stab in. Technically robots are automatic motorised tools, but they're generally known as clunky humanoid foils that have bumbled about popular media for almost a century – mechanised characters of humour, or menace without status, rendering their violent removal a minor plot without guilt.
Boom, there goes another one.

Sad actually. Mobile robots have gotten a bad rap from a lot of prejudicial movies and video games, and not the least from the unfulfilled promises of the 20th century. What's taking these scientists so long?
In the coming future will the robots be more than humans and conquer humans or are we gonna head to a robotic insurgency, chaotic and materialistic war? Right now there's still a lot of debate over it I tend to believe that technology is a bigger issue, especially as we look to the future. Eventually I think we'll get to the point where there's less debate about whether this is really happening or not. There will be more widespread agreement that it really is a problem and at that point we'll have to figure out what to do about it.

But it's not world domination I'm after. I know four things robots can do right now that will change our lives for the future, and all in a good way. The first is entertainment (done that), the second is grunt work in dangerous places (coming up), third is elderly care, and last but not least is shopping, tourism, and assistance.

Imagine sitting at your computer and controlling a video game character through a mall or market, except it's not a game, it's a robot shopping for you in crowded city while you sit comfortably in your home. With a live video and audio feed so you could haggle, you drive a legged humanoid robot about your size so you get a good sense of what would fit, and afterwards you go for a walk to see what the countryside has to offer.
In a future where the cost and inconvenience of travel will likely rise, why not rent-a-rob for an hour just to make sure that resort is up to standard, or to check in on your mate, or to help out at a disaster site, or just get outside in anonymity?

Right now all modern technology is designed to bring the world to you; phone, radio, television, internet, but if trends continue, robots will soon bring you to the world, everywhere, and at the speed of thought. A mind and a hand where it's needed while you sit safely at home and run the show. It's a future goal, something we know we can do if we can urge the market towards it, but it's one I like, and might even be able to do something about. With concern presenting my word that bringing Artificial Intelligence too much into work could turn out to be disastrous. Why? From science fiction horror, directly to the modern brain; the nanobots are on the way. Direct brain modification already has been packaged as "neuro-engineering." Nanobots take the process to an automated level, rewiring the brain molecule by molecule. Worse, these mini droids can self-replicate, forcing one to wonder how this genie would ever get back in the bottle once unleashed. Expected date of arrival?

Think about a robo intended for household chores and then hacked because that's possible and what might that robo turn into? Although it's a machine perhaps we can barely trust them. We're just incising the present consignment but aren't we digging our own grave? I even heard the virtues about injecting a chip in humans and transforming them into semi robots. And its all about exploitation of Artificial Intelligence, situations can equally be biased if trained on flawed or skewed data. This hysteria can cause a manic gross everywhere. Before this nightmarish situation arise we need to tackle it down, because problem doesn't knock your door before entering just the way COVID did.

May be a robot or Artificial Intelligence suit as almighty to this living world. Let me make up differences for you; they could cure the person not heal its pain. It could build the house but not the home, it might consult you but can't give you the feeling to be loved, it might calm you but won't placate you. It would incise your load but not your stress, it might work as per your guidance but can't help you manage things morally, It could memorise all the theories but cannot invent one, it might not obey in case but won't be stubborn like your kids, it would never understand the relations between two person and would always fail to fill the gap, it might play music for you but won't help you with it, Artificial Intelligence would bring World to you but would cease to help you unravel your inner World.
Think about the adage I raised and get aware before you find yourself on battlefield with Artificial Intelligence

-by ANUSHKA SHARAD
Top 10 Amazon prime web series Hindi
Its Weekend and here are top 10 amazon prime series hindi you must binge watch right now if you haven't yet!
Mirzapur – A middle class family gets into trouble when their father takes a case against the mafia of Mirzapur, Akhandanand Tripathi whose son makes things even ugly by gunpointing the family and making the two brothers work for them , who later on want to take over the mafia business.
Paatal lok – Four suspects are taken into custody for attempt to assassinate a journalist. As the suspects don't tell anything the inspector on the case finds about their past where he finds the bitter dark truth about underground world. Must watch for dog lovers.
Breathe – A thriller story of a young boy who has a heart condition and on the transplant waiting list and his family is worried as his frequently hospital visit. On the other side the top organ recivers are getting killed where the inspector is searching for the killer .
Chacha vidhayak hai humare – the series starring Zakir Khan who has a same surname as the MLA of the state and gets his things done by telling that he is nephew of the MLA in reality has no relation with him gets in various trouble because of these lies.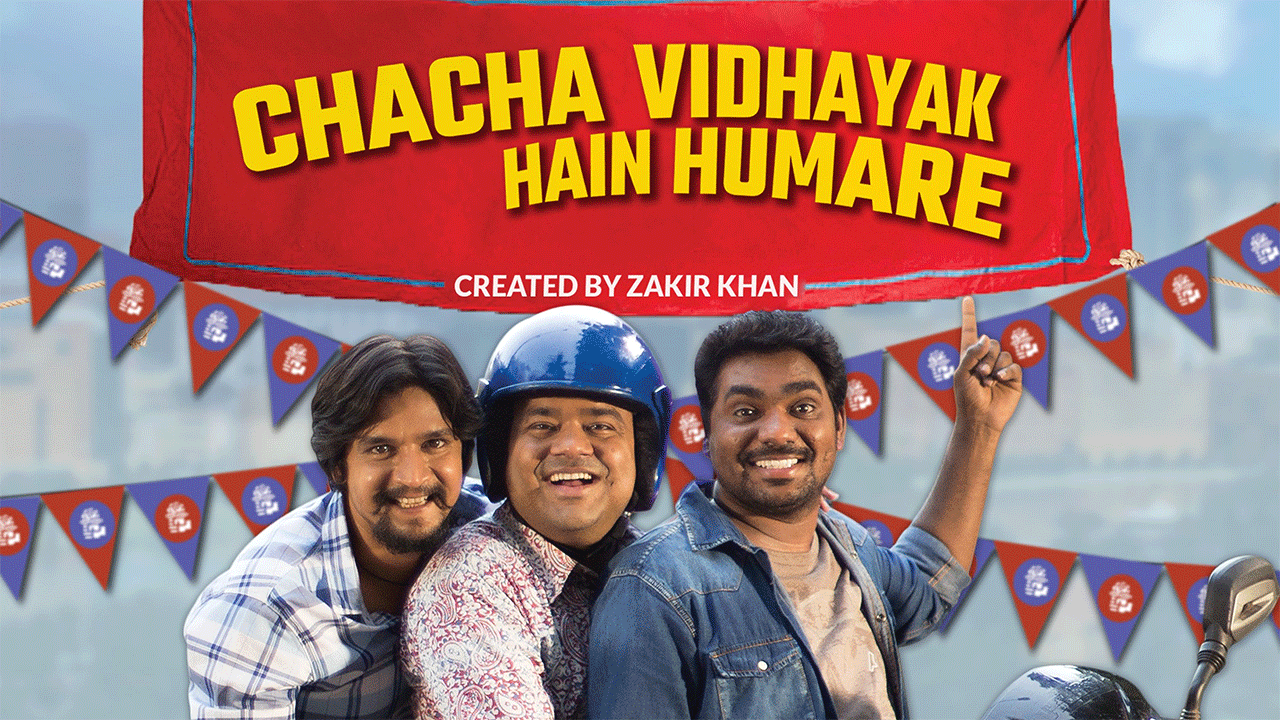 Inside edge – It's a story which gives an insight of cricket premier league held in the country of how betting is done and match fixing for earning through these bettings.
Family man – A middle class man who is actually a spy for NIA to stop terrorist attacks by lying to his kids and having family troubles because of his unsafe job.
Tandav – A indian political story of PM whose son thinks he is ready to lead as the next PM but his father thinks he is not . Has ups and downs in the family and some old friends.
Bandish bandits – Two different types of singers one who is classical singer whose guru is very strict about his gharanas and teaches him to be like hime on the other hand a young modern day girl who has modern music taste and no rules meet and have various adventures together.
Four more shots please – Four female friends from different walks of life deal with romance, work-life conflicts, ambitions and anxieties in modern-day India.
Made in heaven – Two friends having a partnership as wedding planners working with every weeding very closely and the male one is gay and living in indian society illegally and how this affects their business.
For more such recommendations
Dussehra: Victory of Good over evil
Dussehra: Victory of Good over evil, is celebrated on the 10th day of month Ashvina. Victory means Prabhu Rama over Ravana in famous hindu epic Ramayan. Also it means the end of Durga puja and Ramlila. In Ramayan, Ravana kidnaps god Rama's wife Sita, as god Rama & Laxman cuted of the nose of ravna's sister surpanakha. So to claim vengeance on them Ravana kidnapped sita. To get back maa sita Prabhu Rama and Laxman faught battle against Ravana with the help of hanuman, Subriv & other Vanar sena.
In this battle Ravana's brother Bhibishan also helped god Ram against Ravana . At the end of Prabhu Ram wins the battle and rescues Maa Sita. Thereafter this victory is celebrated by burning the statue of Ravan, Kumbhakarn, his son Meghnath. Dusshersa is a climax of long day celebration of Navratri.
Navratri:
The nine days of Navratri is the time to reflect on oneself, observe silence & practice fasting. Fasting cleanses the body of toxins and silence purifies speech & mind. What does Dasehra means Das means ten and hara means take away. Which came after Navratri means nine nights if darkness. On each day of Navratri we pray to that form of goddess durga to take away that darkness of ignorance within us. After that on tenth day on the occasion of Dasehra we burn all the evil, bad things, thoughts, bad habits inside us in that fire in the form of Ravna as evil inside us.
Dusshera: Victory of Good over evil
Ravana is not the demon or evil, you yourself are one. In the battele of Ram and Ravana, god Ram had been invoked Durga May to help him win the battle against Ravana. We also should invoked Durga to help us in gaining back our Sita. Sita? It is awareness inside is which has been traped in maya surround us. To make our soul clean and pure we have to burn the evil in the fire by fighting and winning battle against evil. many evils and negative aura lives within us, we should overcome this with good things. This is what Dasehra symbolise.
It is a supreme festival of Hindu culture with true meaning. Furthermore it also symbolize the feminism as the battle is to bring back maa Sita from the Ravana. Whenever person crosses his limit, go beyond it and try to hurt marayda of stree. She will transform into Durga and will punish that person to death. Rama won the battles and the light and happiness spreaded. its our choice, either we want to be Ravana & get entrapped in the worldly pleasure or want to Rama (A spiritual being).To symbolise and to aware Dashera is celebrated do its called, Dussehra: Victory of Good over evil!